Have you ever been to one of those fancy hotels or B & Bs and the linen smells like fresh lavender? Or have you bought one of those gorgeous lavender linen sprays while visiting a lavender farm? It truly is the ultimate luxury to sink into fresh sheets with a hint of lavender. But it's an expensive luxury. I love using lavender linen spray for my guest beds. It's just an nice touch for your friend to tuck into a fresh smelling bed.
Here's a simple method to make your own gorgeous, fresh lavender linen spray. And you can save a ton of money doing it yourself, especially if you grow lavender in your garden. You're already halfway there….
Here's what you'll need:
2 1/2 cups Water
4 TBS Dried Lavender
2 TBS vodka or clear alcohol
10 drops Lavender Essential Oil
Clear Spray Bottle
Coffee filter or paper towel
Make Lavender Tea:
You start by making a lavender tea essentially. Heat 1 cup of water to a simmer, then add the 4 TBS dried lavender. Here's where the fun comes in…..if you've grown lavender in your garden, you can simply hang some to dry for about a week before making the tea. If not, you can use purchased dried lavender too – it works just the same. Let your "tea" steep for about 5 minutes.
Make The Spray:
Boil the remaining 1 1/2 cups of water and then fill the bottle using the funnel (I always spill all over if I don't use a funnel when filling bottles like this). Add the vodka and essential oil. Then line the funnel with the coffee filter (or paper towel) and strain the "tea" through the funnel into the bottle. Let it cool before using. Tip: I added a drop or two of purple food colouring to bring out the colour. Don't worry, it won't stain your sheets as it's such a small amount.
The alcohol in the mixture helps propel the spray through the air and allows the spray to evaporate quicker leaving behind just the fragrance. It's exactly what perfume manufacturers use to "lift" their fragrance in a spray bottle.
I made my own label on www.canva.com. But since not all of you make this type of graphic, here's the label for you to download yourself:
Just copy and paste it onto a word document, then print it onto sticker paper, then cut it out and affix it to your bottle.
Use the spray whenever you change your sheets, spray your linen closet to keep things fresh and tuck a bottle into a guest room basket for a quick touch-up before bedtime.
If you like this lavender project, you might also like these:
Lavender Body Scrub
Lavender Dryer Balls
This post contains Amazon links to products you made need to complete this project. I will receive a small commission should you purchase any of these product. Thank you for your continued support of this blog.
Sharing with: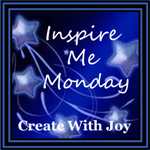 Monday Madness
The Scoop