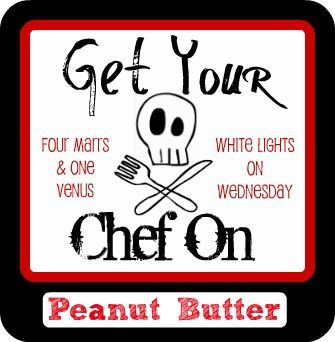 For those of you who know me personally, you will know that peanut butter is my least favorite food. I grew up in a British home and my mother never bought a jar of peanut butter until I was in my teens. And that was spurred on by my sister's constant requests for it. I do keep a jar in the house which I only use for a Thai curry dish that I make - my husband and various kids eat the rest.
So when I heard that the challenge ingredient at Get Your Chef On for this month was peanut butter, I actually considered passing on this one. After all, anything I made I wouldn't like anyways other than my curry dish (and that sounded a bit boring frankly). But if you also know me, you know I'm always up for a challenge. And my thought was that just because I wouldn't eat something, doesn't mean I wouldn't enjoy the process of making it.
So I'm going to thank our co-hosts - Jen at
Four Marrs & One Venus
and Julie from
White Lights on Wednesdays
for stretching my comfort zone and challenging me to cook with something I don't like. The good news is that since I'm not eating it, I'm not gaining any weight. Now that I like!!
Enter my Peanut Butter Chocolate Tart -

my version of a Canadian Living recipe
I figured with all the chocolate goodness that it would mask the peanut butter and I would fall in love with this new taste. Wrong. It's full of peanut butter yumminess via a whipped cream cheese filling. My husband is devouring it and claims it to be fabulous.
Peanut Butter Chocolate Tart
Crust
2 cups chocolate wafer crumbs
1/2 cup butter, melted
Filling
1 pkg cream cheese, softened (8 oz)
1 cup icing sugar
1 cup chunky style peanut butter
1 tsp vanilla
1/2 cup whipping cream
Chocolate Glaze
5 oz bittersweet chocolate, chopped
2/3 cup whipping cream
1 cup mini Reese peanut butter cups, chopped
Set out a 10 inch tart pan with a removable bottom. That gives you the nice fluted edge. If you don't have one, you can use a spring form pan instead.
In a bowl, mix together the wafer crumbs and butter. Press this mixture over the bottom and sides of the pan. Bake for 8 minutes in a 350F oven. Cool on a rack.
Filling: In a large mixing bowl, beat together the cream cheese, sugar, peanut butter and vanilla till smooth. In a separate bowl whip the cream. Mix 1/4 of the cream with the cheese mixture to lighten it. Fold in the remaining cheese mixture. Spread over the crust. Refrigerate for about 2 hours to set.
Chocolate Glaze: Place the chocolate in a glass or metal bowl. In a saucepan, heat the cream till just boiling, pour over chocolate and whisk till smooth. It will look grainy at first. Keep whisking as the chocolate melts to form a glossy topping. Spread it over the filling. Sprinkle the peanut butter cups around the outer edge of the tart. Refrigerate for about an hour before serving.
You can make this up to 3 days ahead - cover it with plastic wrap and refrigerate till ready to serve - let it stand at room temperature for about 15 minutes before cutting.