Let's get to the big news first!!!
For the first time ever, I'm co-hosting a linky party!
Nothing says summer like a good old-fashioned block party. And so I'm joining forces with four other amazing bloggers to showcase your favorite summer projects.
It can be your latest project, DIY, craft or recipe. A reflection of a family trip. Or a tip on how to keep the kids busy on those hot summer days.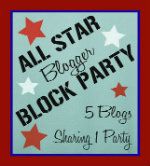 Every Wednesday you will be able to link up your projects, recipes, decor, etc. to the link party from any of the

5

host blogger's websites.

Each link will be shown on all 5 blogs!

That's lots of exposure for one link-up!
Here are the 5 participating bloggers:
Can't wait to work with these fab girls and get to meet some new blog friends. So start lining up your projects and ideas. We'll see you on
June 6th
for our first event!!!
Now onto some serious work.....Since it finally rained yesterday, I was able to spend a little time indoors working on a couple of unfinished projects. Here's the first one.
We picked up this fruit box a couple of weeks ago at a Mennonite barn sale - $5. I wasn't quite sure what I was going to do with it, just knew I HAD TO HAVE IT. You know that feeling. And for $5, I figured if all I did was throw some old blankets in it and toss it in the corner of the guest room, it would work. But I didn't leave it alone, did I?
First I tried my hand at making my own chalk paint after seeing a number of DIYers doing the same. It was really easy. I mixed 1/4 cup Plaster of Paris with 1/4 cup water and stirred it to remove any lumps. Then I poured in 3/4 cup of regular latex paint and stirred. After a quick coat of (the chalky) BM New London Burgundy (HC-61) and a light sanding, I added this apple label which I found on the internet. ModPodge to the rescue, another quick sanding and a coat of clear wax and it looks brand new/old.
After applying the label and letting it dry, I also sanded it to give it an aged look. I wanted to make you think it had always been there.
Right now it's sitting in the garden tucked behind a blue hosta and showing off my vintage garden tools - a gift from my BBF (best blogging friend),
Joanna
from To A Pretty Life. Thanks, Jo. I think I finally found a home for these guys.