My family says that blogging is like "show and tell". Well here's your chance to show and tell us what you've been up to lately with our first ever Linky Party!!! A good old fashioned,
All Star Blogger Block Party!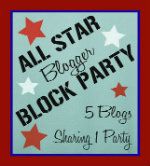 That's right! Link your project, idea, recipe, inspiration, photos of your kids (you get the idea) and you will be featured not only on this blog, BUT FOUR OTHER BLOGS. 'Cause I'm partnering with some pretty awesome ladies out there:
So grab a button over there on the sidebar and add your favorite summer recipe or camping trip or painted piece or garden or dog or, or, or.............
And just a few rules:
NO link ups to other Linky Blog Parties or Blog Hops ( we must insist)
NO link ups to stores or Etsy shops PLEASE!!!
MUST BE made by you =)
PLEASE DO make sure you're "following" all of the Hostess' Blogs - (remember blog etiquette here)and link back to the blog that you linked up to.
PLEASE DO grab an ALL STARS Block Party Button and place it somewhere on your blog
PLEASE DO check out at the very least the post in front and behind you and leave them a comment..
we all love to hear from each other and it's a great way to meet new folks